Getting married is a big step in a person's life. Naturally, you want the right person to perform your marriage ceremony. You can choose between religious figures, such as priests, ministers, rabbis, and others, or public figures, such as judges, court clerks, and justices of the peace.
But there is also a third choice that many don't know about. A notary public can also perform a wedding ceremony, legally marry a couple, and act as a wedding officiant.
However, a notary public is not allowed to marry couples in all states. Only a few states recognize a marriage certificate from a notary, and there are specific requirements that all parties should adhere to for the wedding ceremony to be legally accepted.
In this article, we'll cover everything you need to know about getting married through a public notary and how a current notary can apply to become a wedding officiant.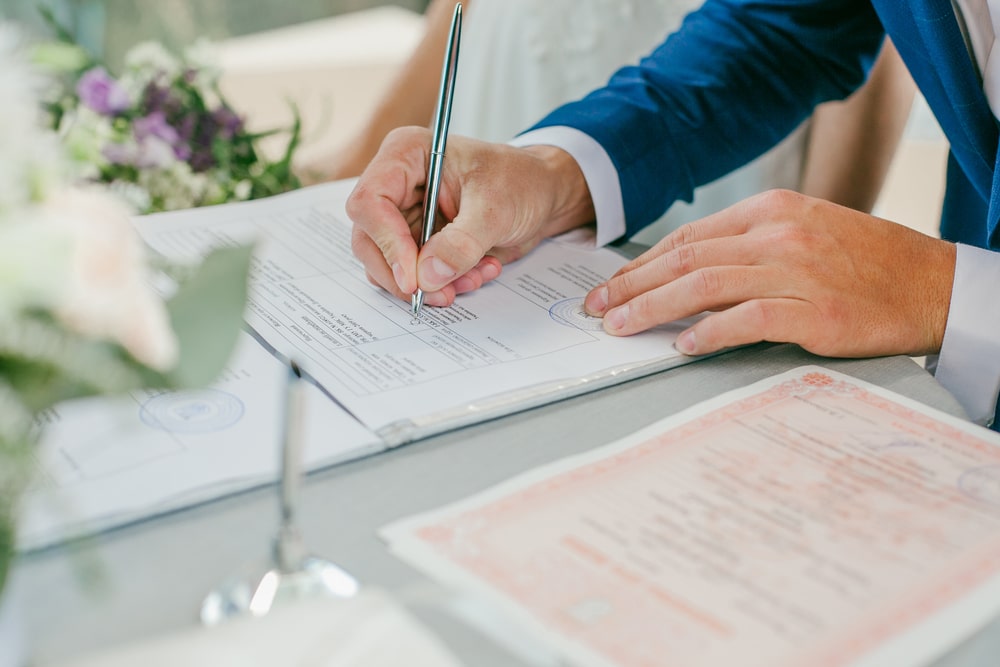 What Is a Notary Public?
A notary public is a licensed professional whose primary duties include verifying signatures in documents and the identities of the people who sign them. With an official notary stamp, the courts will view documents as legitimate.
Notary Publics notarize documents for a variety of purposes, including different financial transactions, legal documents, vehicle documents, and more.
All notaries go through a rigorous process of certification, and they have to provide services according to the laws and regulations of the state they are operating in.
How Can Notaries Perform Wedding Ceremonies?
For a notary, marriage is not a ceremony that they usually perform. Most states don't allow notary publics to marry couples. However, there are a few exceptions:
Florida

Maine

Nevada

South Carolina

Tennessee

Montana
These six states are the only ones that currently allow a notary to act as a wedding officiant. Even if the notary isn't licensed as an officiant, the state recognizes the marriage as legal.
Until recently, you could only request a notary to officiate a marriage ceremony in Florida, Maine, Nevada, and South Carolina. In 2021, Tennessee and Montana added performing marriages to the list of possible notarial duties for state notaries. 
In these states, notaries can perform the traditional aspects of the ceremony, including the marriage vows and completing the related matrimonial documentation, such as signing the marriage license and delivering it to the county clerk's office to get the marriage certificate.

If you get a notary to perform the ceremony outside of these states, then your marriage certificate will not be legal unless that notary is also licensed as a wedding officiant in your state.
There are many notary publics across the country who have gone through the process of becoming a wedding officiant, either online or in person. This allows them to offer a broad selection of services to members of the public. 
Before making plans for your wedding, you should check your state's laws and regulations concerning marriage validity and how a notary public can get a license to become a wedding officiant. This way, you'll know who can officiate your wedding for you.
What Do You Need to Do Before Your Marriage Ceremony?
If you've decided that you want a notary public to marry you in the six states where such a ceremony is allowed, there are a few things you should consider beforehand.
Ensure the Marriage Is Valid
Marriage is a legally and formally recognized union of two people as partners in a relationship. This definition is crucial because it sets the tone for a serious and solemn ceremony. Marriage cannot be done in jest or as a spontaneous gesture.
It must be a willing union to commit to a legal contract, so neither party can be coerced to marry. If the couple is getting married in a non-serious or fraudulent manner and has not respected the regulations that govern marriage, the marriage certificate can be invalidated later.
Get a Marriage License
Any couple that wants to get married needs to first obtain a marriage license. Couples can get these licenses in their county by applying through the local county clerk's office. To apply for a marriage license, you will need the following documents:
Identification for both individuals getting married, such as a passport, driver's license, or social security card

Payment for the administrative costs of the county clerk's office that is issuing the license
Once you get your marriage license, it will have a validity period, depending on state regulations. For example, a marriage license issued in Florida is valid for 60 days after issuance.
The wedding must happen during this validity period. Otherwise, you will need to get a new license.
Book Your Notary Public
Once you get your marriage license and know the date you will get married, it's time to book your notary public. 
You will need to make it clear that while the notary is a wedding officiant, they are officially on commission from the state where you are getting married. If the notary is not on official commission, the wedding becomes unofficial and is not legal.
Even if you don't want a notary public performing the ceremony, you will still need a notary to provide notarization services related to your marriage, such as:
Notarizing life documents

Witnessing signatures for the marriage license

Notarizing certified copies of your wedding license (a requirement in some states such as California, if you want a confidential wedding license) 

Notarizing documents you need for name changes 
So whether you are getting married through a notary public or not, you will still need one to help with marriage-related paperwork. If the notary is ordained, you get a full suite of services and a seamless experience, from the moment you get your marriage license to after you say your marriage vows.
Understand State Laws on Marriage Ceremonies
Notaries can perform a wedding ceremony if you live in the states of Florida, Maine, Nevada, South Carolina, Tennessee, and Montana. If you're not in these six states, notaries cannot legally marry you without taking extra steps.
What a notary must do varies by state, so it's important to look at the current laws in your state to get an understanding of what's legal. Notaries in other states can do the following things to be able to officiate weddings:
Get ordained to perform a wedding along with their standard notary duties.

Apply for a temporary one-day marriage designation. This is an especially popular choice if the notary public wants to complete a family member's wedding ceremony or for friends.
If you have a particular notary you want to officiate at your wedding, such as a friend or someone important to you and your partner, you can ask them to take your state's required steps.
Both choices require quite a lot of paperwork, and your notary will have to file everything beforehand. Keep this in mind so you can make sure everything is in order before the day of the actual wedding. Otherwise, the marriage will not be legal.
Understand the Requirements for Notary Publics to Officiate Wedding Ceremonies
If you want to have a wedding with a notary—whether you're in one of the six states that recognizes a notary as an officiant or you're choosing a notary that's also a licensed wedding officiant—there are a few considerations and requirements you should be aware of.
The Location of the Marriage Ceremony Is Important
Notary publics can provide services in the state that they are licensed in. They can complete your wedding documentation, and if they are licensed, they can also officiate your wedding.
However, a licensed notary cannot marry couples who are from another state. They also can't go out of the state to perform a wedding. Florida notaries, for example, cannot marry out-of-state couples, and they cannot leave Florida to marry a couple in another state.
You should also keep in mind that once the marriage license is notarized, the notary has to return it to the issuing clerk's office. The license with the original signatures must be returned to the county where it was issued, either by mail or hand-delivery.
When You Sign the Marriage License Matters
Once the county clerk issues the marriage license, you'll need a notary to complete the notarization process to make it official. Notarization and the wedding ceremony have to be performed when the license goes into effect, which can be several days after the county clerk's office issues it.
In some states, such as Texas, there is a built-in waiting period of 72 hours between when you apply for the license and when you can get married. In Minnesota, Ohio, and Wisconsin, it's a five-day waiting period.
It's also important to note that your marriage license will expire at some point.
In general, marriage licenses expire after 30, 60, or 90 days, depending on the rules in your state. So, you don't want to apply for the license too far in advance, get it months ahead of your actual ceremony, and end up with an expired license on the day of your wedding. 
Ultimately, you need to know the license issue date, effective date, and expiration date. With these dates, you can ensure your ceremony and signing takes place when the license is valid.
Generally, couples will get their marriage license, sign it right after the ceremony, and then the notary (or another officiant) will return it to the county's office. When you get married by a notary public, they should have the marriage license with them and ensure everything happens within the right time frame.
You Might Need Wedding Ceremony Witnesses
When you have a notary public perform a marriage ceremony, witnesses are not usually needed. Some marriage licenses or certificates will have spaces for witnesses to sign, but you can complete the ceremony without witnesses if you get married through a notary in most states.
There are, however, several states that require at least two witnesses. For example, in Delaware, Arizona, and Kansas, two witnesses who are at least 18 years of age are required at the ceremony.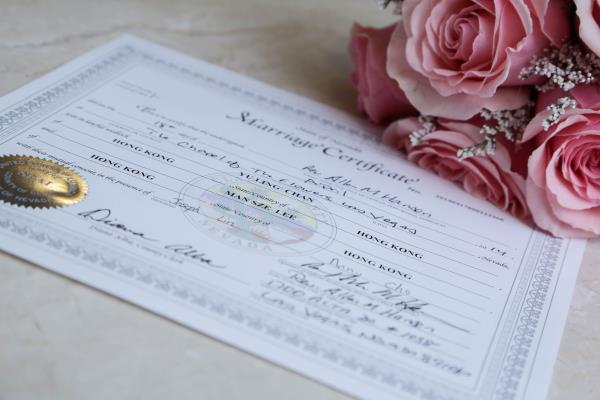 Costs for a Notary Public Performing a Marriage Ceremony Vary
Just like with any other service, notary services and notary marriage services come with costs. The usual fees for "regular" notarial services can run anywhere from $5 to $25. For marrying two individuals, it is at the discretion of the notary public to set their fees.
Notaries Will Solemnize the Rites of Marriage
Just like religious or public figures perform and solemnize the rites of a marriage ceremony, so do notary publics. During the ceremony, the notary public will ask the couple to read their vows and ask if they "take each other" as husband and wife.
Once both parties respond with "I do," the notary public can ask them to place a ring on each other's fingers and repeat the standard marriage ceremony oath. Once the ceremony is closed, the notary public can pronounce both parties as married.
What Are Traveling Notary Public Services?
Planning weddings can be quite stressful, and dealing with the administrative side of it just adds to the stress. If you need a notary public to notarize your documents or perform your ceremony, you will first need to find an adequate person who is licensed and available for your wedding day.
This can be quite a headache, so many people turn to traveling or mobile notary services to simplify things.
With mobile notary services, you can count on a licensed notary public when you need them and where you need them.
The notary travels to you to notarize your marriage certificate and solemnize the marriage in front of your family and friends. The notary will also make sure the license is signed correctly and then sent to the same county clerk's office that issued it.
Both the bride and groom can rest easy knowing that all the legal paperwork of their union is taken care of by a professional. There are no worries about missed signatures or a technical mistake that makes the marriage invalid.
Conclusion
It is entirely up to the couple whether they want to get married by a notary public or someone else. A lot of people have religious preferences and want clergy or ministers performing their marriage. The difference with a notary is that they can also notarize your signed marriage license and other documents.
This can streamline a lot of the paperwork related to getting married, removing some of the hassle and enabling you and your partner to focus on your special day. 
With Superior Notary Services, you can get mobile notary services throughout the United States in any place you want and at any time that you need. Our wide network of more than 50,000 notary publics across the country allows us to serve you anywhere you are, at any time. 
You don't need to stress out on your special wedding day for a notary. Simply start finding a notary public through True Notary Services today!